Passionate about visualizing and producing environments as an art form, I enjoyed drafting imaginary houses, perusing interior design magazines, and taking art lessons throughout my childhood. After graduating from Smith College in 1986, I lived in New York City where I continued to draw, paint, and attend art classes. Visiting museums regularl, I was particularly fascinated with O'Keeffe's composition, Dali's use of light, and Richter's exactitude and versatility. I noticed that my own growing body of artwork primarily depicted spaces and was diverse in style.
After moving to San Francisco in 1991 I actively began to pursue making art as an environment. Starting as a scenic artist for regional Bay Area theatre companies such as ACT, UC Berkeley, The Magic Theatre, and Shakespeare at Stinson, I developed expertise and versatility in conceptualizing, designing, and decorating spaces to create a specific atmosphere for a specific period.
My interest in making more personal and permanent environments than scenery drew me into residential and commercial mural painting. Some of my clients included Ristorante Bacco, American Ag Credit, and Charlie's Grill, (Charles Shulz's restaurant in Santa Rosa).
On more than one occasion I had clients ask me to help them with color and design elements.
Encouraged by my results and wanting to expand in my creative work, I took some courses in interior design and launched my next career at a designer showcase in Marin County.


I had a strong intuitive and practical ability to translate my clients' inner visions into successful spaces for them. I love collaborating. At the same time I started incorporating theatrical and architectural elements into my own artwork and making art specifically for my clients.
Several years later, I felt the need to broaden my creative vision once again. I studied architectural design, predominantly green building, at the San Francisco Institute of Architecture from 2005-07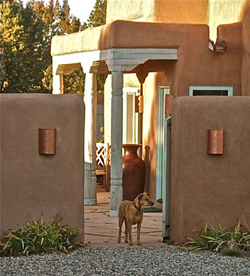 .

Now, I create unique homes, spaces, and artwork in which I combine design with fine art and stagecraft. Drawing on a broad range of styles for both my art and my design work, I love doing new construction, renovations, and site-specific art. I'm dedicated to helping people like you successfully build or transform your space into a functional environment that's interesting, unique, and beautiful.
_________________________________________________________________________
Elizabeth was a featured interior designer and artist on HGTV's Sensible Chic in 2003 and 2005. Her work was on the cover of Country Almanac's Small Room Decorating Magazine in 2010. She designed and built her own solar home in northern New Mexico. She also recently bought and renovated a retreat center there which is now available for art and healing retreats: